Click on any of the Green Links above to quickly view CFAL course modules.
For questions, Contact Dr. Jill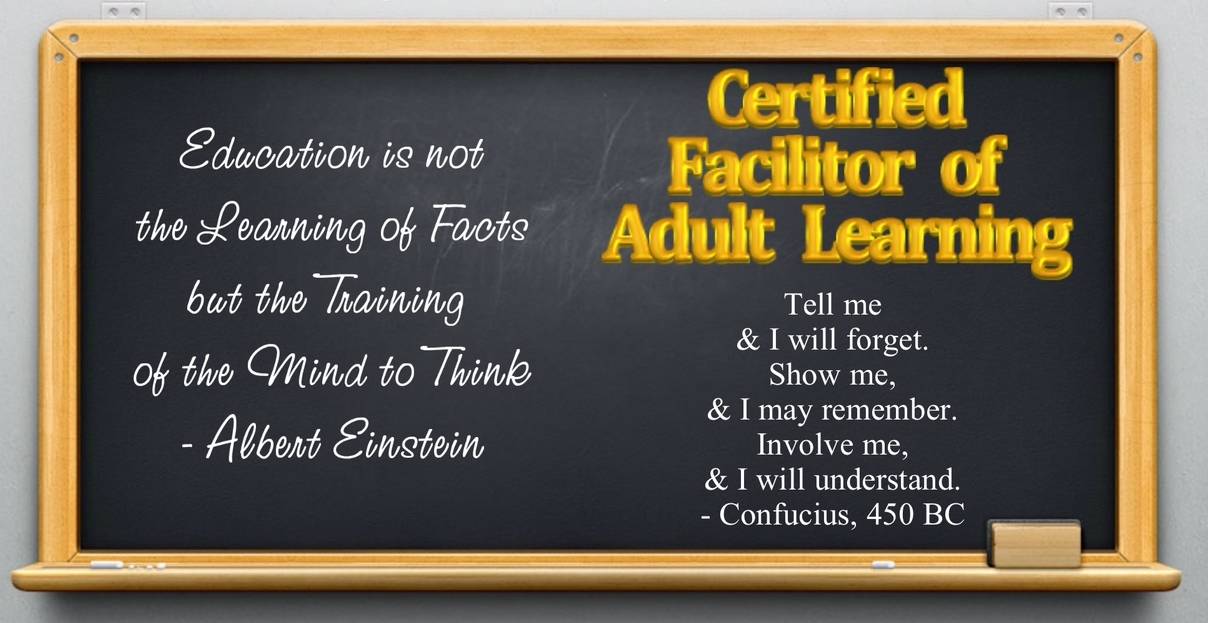 Learn how to design workshops and training programs using adult teaching and learning strategies that involve your participants and take them to the next level of performance. Become a Certified Facilitator of Adult Learning Now!
Become a Certified Facilitator of Adult Learning
On-Line Course
Frequently Asked Questions
Sometimes the questions you want answered first are buried in a web page. I've put your questions first! The CFAL objectives and course outline follows these frequently asked questions.
1. Who can benefit from this course?
Over the years, CFAL graduates include individuals from diverse occupations, including: Adjunct Professor, Attorney-Administrative and Criminal Law, Banking Team Manager, Clinical Information System Specialist, Confidential Secretary to the Commissioner, Corporate Development, Program Manager for Leadership Development, Certified Medical Assistant, Director of Education, Director of Healthcare Education, Early Head Start Manager, Hospice Care Consultant, Math Teacher, Marketing Manager, Mobile Communications Trainer, Massage Therapist/Instructor, Pharmaceutical Sales, Physical Therapist Assistant, Realtor and Adjunct College Professor, Regional Clinical Coordinator, Regional Audit Manager for Southern African Countries, Registered Nurse, Trauma Nurse, Telecoms Trainer, Training and Development.
2. WHY take this course?
Below are just a few of the reasons participants (in their own words) signed up for this course:
I am a new trainer for my company and I want to give my students the best learning experience that I can.
I have taken on a new role of providing computer training to our Clinicians. I know that Adults learn differently and I am really excited to learn all about it!
I'd like to become certified as an adult learning facilitator so that I may start and run a training department at my company.
I'm taking this course because I teach adult learners at a career college.
I facilitate a monthly Leadership Training for employees of Social Services.
I'm the manager of Corporate Development where I work and know about adult learning methods but want to learn more.
I will be setting up a College Graduate Onboarding program and I want to be sure that I'm being as effective as possible in my role.
I have applied for a position helping to train judges in the State of Florida.
I am taking this course to better myself as an instructor and it is a requirement for our accreditation for the college.
I am the Director of Education and an R.N. I need a background in Adult Learning techniques to better determine our training processes.
I have just started a new job as a trauma nurse consultant that involves delivering education to nurses and other staff at all levels.
I'd like to have a more detailed understanding of how adults learn in order to design my courses to better meet the needs of my students.
In running an Early Head Start Program, it is my responsibility to train staff to do the best they can to help the families in our program. I want to be able to train adults more effectively so we have the most impact possible in a child's life
I want to become a professional trainer and facilitator from knowing the theory of teaching and best practices.
The course is one that I view as a refinement and enhancement to the self-developed presentations I currently offer.
I am taking this course to better my understanding of Adult Learning Principles and how to apply them to my job. This will help me be more productive, and also will provide my students with a better way of learning their material crucial to their job.
I am taking this course to further my career in Nursing Education.
I was asked to present an in-service on Adult Learning for the purpose of educating our own methods that our clinic might modify/ change our patient teaching activities
I am working toward a new job. This job will allow me the opportunity to continue teaching but at multiple levels of education and age.
3. WHAT will I learn?
Read what past CFAL participants have learned (in their own words}:
I learned that there are several kinds of learners and several ways to teach, the objective being to facilitate all student's learning experience through the tools given in this course.
I learned I knew more than I realized and that I can be an effective facilitator. This course has given me belief in myself as a facilitator, teacher and renewed my inner knowing that teaching workshops is one of my callings.
I learned to always always always remember the learner is the center of attention! I got a lot out of doing this course even though I have a degree in it!
I discovered a new, learner-centered, teaching style.
I have learned to apply adult learning principles in my training session ensuring my learners have a well trained and prepared facilitator.
I have learned to be more aware of how others think and how I come across when teaching a class.
I have developed a clearer understanding of developing precise objectives as strategies for goal accomplishment.
I have learned that there are several steps in the learning process, there are different types of learners, and how to compose an in-service so that it is effective for all learners.
I have learned to vary my teaching style/technique to suit different types of learning & personalities. This course helped me polish my teaching style. Through the modules and feedback in this course I have been able to vary my techniques and style to suit all types of learners. The information is easily translated into real life.
Using the materials from this course, I now have a greater understanding of how to teach individuals of different personalities, varying goals and situations in a more creative, interactive, interpersonal and structured atmosphere.
I learned that there is much more to adult learning theory than the idea that participants have to be actively engaged in the process.
I learned that teaching adults demands more and accurate preparation if you want to gain their attention and get them to learn from your presentation.
I have learned how to organize a workshop from start to finish so that learning is maximized!
I have learned how to facilitate more effectively by taking learners through the 5 steps of the Experiential Learning Cycle.
I learned that I need to plan more in advance through the use of well thought out questions, activities, and pre and post testing, to help various types of learners meet their needs when attending the seminar.
Having to list the objectives, then the content, then the teaching/learning strategies forced me to think of how I would get the various points across through a variety of methods. Also extremely helpful to me was the feedback, pointing out areas in which I could improve and areas in which I did well.
I learned how to be more effective in my teaching style so that I'm "reaching" everyone.
This course has armed me with the knowledge and skills needed to successfully create and deliver a lesson plan to adult learners. The feedback received from Dr. Jill was most valuable because it validated my ideas and kept me on track for correct and effective lesson plan development.
4. WHERE and WHEN can I take this course?
In the comfort of your own homes or office, at your own pace, at your own times!
5. Do I need any special programs on my computer to take this course?
This course is completely on-line and may be accessed from any browser platform, including Firefox, Chrome, Safari, Internet Explorer and more.
6. How is this course set up?
This is a self-paced adult learning course. There are 3 modules and a total of 30 individual units. Each unit contains relevant content and requires either a self-test or a submission test. Self-tests are graded on-line by each participant immediately after completion. Submission tests are reviewed by Dr. Henry and feedback is emailed to the participant.
7. Just how much "feedback" will I be receiving?
During this course, you will be submitting 7 "tests" to Dr. Henry. The tests include descriptions of your adult learning strategies, your specific course objectives, details of your course content and planned learning activities, questions you will use to facilitate your learners, course pre and post tests and course evaluations. Dr. Henry will personally review each of your submissions and provide feedback. She may suggest changes and revisions or ask questions to help you clarify your workshop. In order to obtain your certification, you must submit all course information and make revisions as appropriate to meeting CFAL course objectives.
8. How long will this course take?
This is a 20 contact hour course, that is, the average person will take about 20 hours of actual work on the course to complete it. The time it takes you will be individual to you.
The course is self-paced, so you may dive right in, or you may spread it out over several months. The recommended time frame is approx. 6 weeks, however you may complete it in shorter or longer periods of time. We will honor your registration fee for 3 months. If you have not completed the course within 3 months, you may ask for and may be granted an extension. If you have not requested an extension or have not completed the course within 3 months, you will need to complete the registration and fee process again.
9. What if I start and realize that it isn't what I wanted?
This is a detailed program intended to help you develop concrete skills required in adult teaching and learning. Once you purchase the course and receive your ID, we recommend that you briefly "view" the course to see if it meets your needs. If you are not satisfied with the content or format, then you may request a full refund.
Refunds must be requested within 5 days of receiving your ID and are not valid once you have submitted an assignment for feedback. After five days, or submission of your first assignment, whichever comes first, a refund will no longer be available.
10. What is included in this course cost?
Access to all course materials on-line - no additional books to purchase!
A minimum of 7 separate email individual feedback sessions with Dr. Henry
Development of a complete "lesson plan" tailored to your content and topic.
Individualized feedback - one on one to help you develop your best work.
A framed certificate stating that you have successfully completed 20 contact hours and are Certified as a Facilitator of Adult Learning
Note: If you just looked at the price and said "Yikes", be aware that the cost is actually $12.50/hour, which is average for any on-line training course. For that price, you receive unlimited access to training materials and personalized instructional feedback. Many businesses will gladly pay that price to train their trainers and you could speak with your employer to fund the course for you. It is far less expensive than attending a weekend seminar when you consider room and board and transportation and seminar costs. Successful couse completion provides you with skills you will use for the rest of your life in a variety of teaching/learning situations. So come aboard, I welcome working with you! Dr. Jill Henry, EdD.
Overview
Most teachers and trainers of adults are enthusiastic presenters who know their topics well. Many however have had no formal training in educational methodology. Helping participants learn is the point of all presentations, whether they are hour long lectures, week long seminars, business and industry training programs,, or academic courses. Even if you are a natural teacher, a sound grounding in Adult Learning Theories and Strategies will take your presentations to the next level and ensure your success in helping Adults learn and grow.
PURPOSE OF COURSE: The purpose of this on-line course is to enable participants who teach adults in a variety of settings to develop skills in organizing, facilitating, and evaluating their programs in terms of Adult Learning Theories and Teaching Strategies.
GOAL OF COURSE: The goal of this course is to certify individuals who have demonstrated competence in the course objectives as Certified Facilitators of Adult Learning..
Becoming a Certified Facilitator of Adult Learning involves 3 parts.
Module One: Learning to use the Principles of Adult Learning to organize your presentations and make them sing! Includes developing learner centered objectives for a course, class, or training session you currently teach or plan to teach in the future.
Module Two: Discovering your own teaching/learning style and learning how to teach adults whose learning styles differ from yours. Includes taking a Personal Style Inventory and using that information to plan workshops that incorporate a variety of teaching/learning techniques. Plus you will learn to develop key facilitation questions to ensure participant understanding of your topic using the Experiential Learning Cycle.
Module Three: Teaching for Competence and CEU program approval. Includes designing workshops to meet standard CEU requirements by developing Pre and Post Tests, and presenting workshop information in the language required in CEU application forms.
Competence in Adult Facilitation will be determined through the completion of individual assignments which will be reviewed by the course facilitator and "discussed" via email with each participant. This individual attention and feedback is the hall mark of this course and makes it unique from other on-line courses.
Successful completion of the objectives in all modules, including feedback and revision from the course facilitator, will result in a Certificate Issued to the participant as a Certified Facilitator of Adult Learning.
Participant Comments
Jill,
Thank you so much for what you do! I hope you know how valuable it is for people like me who live in a small town in the middle of nowhere (also one of the most beautiful places you could ever see) to have access to such wonderful training.
Obviously in these tough economic times traveling to such a training is out of the question so thank you for an online course. If you have any others that focus on training I would be interested.
Thank you again!
Bonnie
I want to thank you for not only offering the course but for being so available and supportive. Your feedback was valuable and timely, which kept me wanting to continue the process. I think I will be a better instructor and I thank you for that! The Best of everything to you and thanks for doing what you do.
The information that was most helpful to included information in designing the actual course to meet the needs of various types of learners. Having me list the objectives, then the content, then the teaching/learning strategies forced me to think of how I would get the various points across through a variety of methods. Also extremely helpful to me was the feedback, pointing out areas in which I could improve and areas in which I did well. The one thing I have not previously done, but will do so from now on, is think about facilitating questions ahead of time. I have always taught through listening and responding, like I do in court, but I see the benefit of having questions available ahead of time to keep the learning cycle going. Thank you for this method of teaching. It will be most helpful.
A few weeks ago, I approached my supervisor about an opportunity in our Medical Division to become our Safety Officer. This is not a paid position?it is performed in addition to one's regular duties. I thought this would be a great chance to contribute to our group's safety and work issues. It would also allow the chance to get away from the dulldrum of the PTA world that I experience at times--HPK/CPK/ posture instruction/Ultrasound......you know the song and dance. Well, my request to apply for the Safety office was quickly denied. Instead, here is what he said, "since you feel you have so much time on your hands--I want you to give an inservice on Adult Learners and provide a framework for how we can use that in our clinic for educational purposes"
So disgrundled, I went to the internet in search of something that would help me prepare the in-service--that's when I found you and this course--what a life-saver!!! I returned to him with the course information and he agreed that it would be helpful for our staff to take it. What started as a punishment for me, has turned into an awesome learning experience!!! I'm sure that I will still be required to do the in-service--but boy, am I ready for it now. Thanks for your feedback--I needed the encouragement--Thanks for your course--it has made me a better clinician already--Thanks for the support--I'd love to have been your PTA and you my mentor!!!
Portions of this program are being used by the Naval Air Systems Command, Training Systems Division in collaboration with the Surface Warfare Officers Schools (SWOS) Command Professional Development Plan for the SWOS faculty and instructors.
Module One
Adult Learning and Developing Your Objectives
Andragogy, or the study of adult learning, developed out of a realization that there is a difference between the way adults learned as children, and the way they approach learning as adults. As children, learning was often of no immediate, practical value. The focus was on memorization and simple skills, on essentially lower level objectives. Children learn what they need to learn for "later", whenever later is. Subjects are taught to prepare children for college entrance examinations or vocational careers. The result of the learning is a "grade", which must be earned to graduate. Yet most adults take an entirely different approach to learning. Home improvement is a good example. A couple decides they want a deck out their back door. They have determined the objective, and now proceed to buy books, talk to lumberyards, and do any number of learning activities to build their deck. The completed deck serves as the evaluation product and method. Self-help books and tapes are another example of adult learning. Many adults set out to improve their memories, lower stress, gain happiness... on their own. They have set the objectives, developed the learning methods, and eventually evaluate their own success at meeting the objectives.
This is a self-paced, adult learning program designed to help you become a better facilitator of adult learning whether you are teaching in formal academic settings, training in business and industry, or teaching adult workshops and continuing education programs.
OBJECTIVES: During this module, on-line participants will:
Design Workshops and Courses using the principles of Adult Learning (Andragogy)
Develop learner/participant-centered objectives in the 3 aspects or domains of learning (Cognitive - what you know, Affective - What you feel about what you know, and Psychomotor - What you are able to do with what you know
REQUIREMENTS:
Participants in this program are asked to have with them any teaching materials that they have used to teach in the past or are planning to use to teach in the future. If materials are "inside their heads" only, that's OK too. The content of these materials may be anything from using herbs to teaching a CEU course, from understanding personal vision quests to teaching physical exercise or mental meditation. Using their own materials, participants will experience developing learner-centered objectives
Participant Comments
This has been great. there is so much knowledge in here and I need to go back and review some sections more thoroughly as time permits. this has given me belief in myself as a facilitator, teacher and renewed my inner knowing that teaching workshops is one of my callings.
Obviously in these tough economic times traveling to such a training is out of the question so thank you for an online course. If you have any others that focus on training I would be interested.
Thank you again!
Bonnie
I have learned that there are several steps in the learning process, there are different types of learners, and how to compose a in-service so that it is effective for all learners.
Module Two
Personal Styles of Teaching and Learning
If everyone in the world learned in the same way, then teaching would be easy. In fact, most people teach as if they believed that they do. The typical seminar is lecture based. The presenter prepares a lecture, then delivers it to his or her audience. The problem with this method is that it only addresses one type of person, and one method of teaching. Studies have shown that when the teaching method is lecture-only "telling", that recall after 3 hours is 70%, BUT after 3 days is only 10%. However, when the learner is talking and doing (as well as seeing and hearing), recall rises up to 90%. It may be nice to know that your audience remembers what you said when you talk to them after the presentation, but what do they remember 3 days later? It's the 3 days later that we are after, and the 3 weeks, and the lifetime of the learner.
In this module we will explore 4 distinct continuums of learning and develop teaching strategies to address the learning needs of individual preferences.
Each of us has a personal preference or way of viewing our world. We will use in this module a personal style inventory and learning theory based on the Myers-Briggs Type Indicator which views individuals in 4 dimensions or continuums of personal approaches to learning.
Extroversion (E) versus Introversion (I) Indicates whether a learner prefers to direct attention towards the external world of people and things or toward the internal world of concepts and ideas. This preference tells us from where people get their energy.
Sensing (S) versus iNtuition (N) Indicates whether a learner prefers to perceive the world by directly observing the surrounding reality or through impressions and imagining possibilities.
Thinking (T) versus Feeling (F) Indicates how the learner makes decisions, either through logic or by using fairness and human values.
Judging (J) versus Perceptive (P) Indicates how the learner views the world, either as a structured and planned environment or as a spontaneous environment.
Experiential Learning Cycles propose an iterative series of processes that underlies learning. In other words, it's not what you teach, but how you teach it that most dramatically influences the learner.
Experiential Learning Cycles are commonly used to help structure experience-based training and education programs. It is the teacher's responsibility to structure and organize a series of experiences that positively influence each individual's potential future experiences (Dewey, 1938/1997). In other words, "good experiences" motivate, encourage, and enable students to go on to have more valuable learning experiences, whereas, "poor experiences" tend to lead towards a student closing off from potential positive experiences in the future.
OBJECTIVES: During this module, on-line participants will:
Identify personal learning style using a Personal Style Inventory.
Plan the learning experience for different types of learners including: Extraverts and Introverts, Sensors and Intuitors, Thinkers and Feelers, Judgers and Perceivers
Facilitate the learner/participant through a 5 step Experiential Learning cycle that results in the learner being able to "take home" and apply the information in ways that improve their lives and the lives of those around them.
REQUIREMENTS:
Participants in this module will use the course materials and the learner-centered objectives they developed in Module One. Using their own materials, participants will design a presentation or workshop that includes elements to satisfy all 4 continuums of adult learners. Feedback will be given on teaching strategies and their match with previously developed objectives. In addition the Experiential Learning Cycle will be used to share their objectives and receive feedback with the course facilitator, process how these objectives may assist in a workshop they have done or are planning to do, generalize to future workshops and plan a workshop by applying the Experiential Learning Cycle to their own materials.
Participant Comments
This course helped me polish my teaching style. Before I was teaching how I like to learn, which only benefits those with personality types similar to my own. Through the modules and feedback in this course I have been able to vary my techniques and style to suit all types of learners.
I was pleased to uncover module 2, because as I developed my course design, I struggled with how I would facilitate discussion - thank you!
Module Three
Teaching for Competence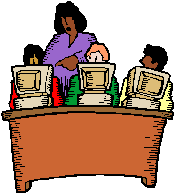 One of my favorite words is efficacy - the power of producing effects. The Power of Producing effects is the goal of all teachers for their learners. To be effective - able to produce a particular result. This power is referred to as competence - fit, able, capable. In formal academic settings competence is tested using formal written exams and observations of hands-on experiences. In adult continuing education settings, the learners are rarely tested on their competence. But why not? When you present your material, don't you want to believe that your participants have understood enough about what you have said that they can go home and have a certain amount of competence in it? When I teach meditation, I want the learner to be competent enough to go home and practice the techniques. I want the learner to have efficacy in meditation - I want the meditation to produce effects that change the learner's life for the better.
And that's where testing comes in. The simplest test in adult continuing education is a pre-test/post-test. This can be written or just done verbally. The pre-test allows the learner to get an idea of where his/her knowledge is in relation to the topic at hand. It piques his/her interest and involves the learner immediately in wanting to find out the answers for the questions that are unknown. Using the same instrument for the post-test (not graded of course!) allows the instructor to clarify any misperceptions the learner may have had during the presentation. In addition, if you are planning to apply to any organization for continuing education, a pre test and post test are frequently required as part of your submission package.
The second type of test we will be designing is a participant evaluation form. This allows the participant to tell you what was good, and not so good, in the workshop or class. You can then use the results of the participant evaluation to make continuous quality improvement in your course.
OBJECTIVES: During this module, on-line participants will:
Describe the use of formal and informal evaluation and feedback in facilitating adult learning.
Develop a written pre-test/post-test to determine learner competence on a program they have or will be presenting.
Design a written course evaluation on a program you have or will be presenting.
REQUIREMENTS:
Participants in this program will use the teaching materials they developed in Module Two to design learning experiences, plus the learner-centered objectives they developed in Module One. Using their own materials, participants will design a pretest/posttest and course evaluation form.
Participant Comments
Hello Dr. Jill -
I loved this exercise - It really made me think about my objectives and whether they covered what I wanted participants to take away from the course! I am going to use the pre-test and post-test approach when I deliver the course - I think it will be a great tool for participants to measure their own learning and growth!
I'm also going to share the materials with them prior to the session so that we are all thinking about change and how it effects us so that the group will be even more dynamic - great advice!
Purchase the CFAL on-line Course Now for $250.00
Note: All participant communication and test submissions must be in English for this course.
Your Instructor - Jill N. Henry, EdD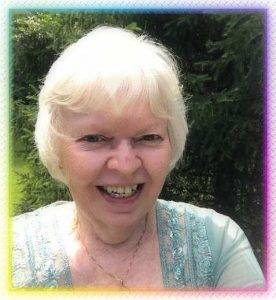 During the 1980's, Dr. Jill Henry, EdD, PT, APP traveled across the United States and Canada teaching academic and clinical teachers how to teach. She published 5 major articles on the teaching/learning process in referred professional journals. She was an educational consultant for the American Physical Therapy Association, planning national teacher training events. She also consulted with Richmond County. GA public schools on "Training the Trainer" programs and was a key player in corporate training programs offered by the Augusta Georgia Chamber of Commerce. Since moving to the mountains, teaching and presenting with efficacy remains a passion for Jill. There are basic skills that anyone can easily learn to improve their workshops and presentations. Complete this on-line course and receive your certificate as a Certified Facilitator of Adult Learning
Jill Newman Henry. EdD, PT, APP
Mission - To explore, facilitate, and advance Well Being in individuals and organizations.
Education:
University of Georgia, 1985-1988, Ed.D. Adult Education
"Medical College of Georgia, 1977-1980, M.H.Ed Health Education
The Ohio State University, 1968-1972, B.S. Physical Therapy
Professional Positions
2017 – Video Productions for Web Advertising and Education, Mountain Valley Center.com
2004-Present: Practicing Polarity Therapist and CranioSacral Therapist at Mountain Valley Center.com
1998 to present: Owner and Operator of Mountain Valley Center.com and the Otto Labyrinth Park, Otto, NC
2014 to present: Part Time, Saturday and PRN Physical Therapist Mountain Lakes Medical Center, Clayton, GA
2012-2014 – PRN Weekend Physical Therapist at Habersham County Medical Center.
November 2010 to May 2012: Contract Physical Therapist at Mountain Lakes Medical Center to build and provide therapy services for both in-patient and out-patient rehabilitation, Clayton, GA
August, 2008 to March, 2010 Part time/prn Contract Home Care Physical Therapist, Habersham County Medical Center, Habersham, GA Home Care in Rabun County, GA
2008-2010 Board of Directors, American Polarity Therapy Association
May- August 2008 Staff Physical Therapist, Mountain View Skilled Nursing Facility, Clayton, GA
2004 – Author and Director for online course – Certified Facilitator of Adult Learning.
2004 Author, Energy SourceBook: The Fundamentals of Personal Energy (Llewellyn Worldwide Publishers) Energy SourceBook has been translated into 3 languages and received a nationwide award as one of best books in alternative health in 2005.
2000-2005 Evaluation Consultant: AGElink - Advancing Geriatric Education through Community Linkage: Dept. of Health and Human Services 1-D37-HP-00782-10 administered through Medical University of South Carolina. Charleston, SC
1997 - 1999 Grant Consultant. Administered through Medical College of Georgia, Augusta, GA., This 3 year grant, Multidisciplinary Instructional Modules (MIMS). Bureau of Health Professions Grant #1D37 AH 00542 involves the creation of teaching modules for faculty in Allied Health in areas of ethics, home health and hospice, prevention, geriatrics, rural health care, cultural differences and current issues.
1997 Physical Therapist, American Therapy Services, Britthaven of Franklin
1994 - 1996 Physical Therapist, Ridgecrest Hospital and Mountain Home Health, Clayton, GA. Home Health involved 4 Counties in North Georgi - Towns, Union, White, and Rabun.
1993 - 1994 Physical Therapist, Nova Care (specializing in Geriatric Rehabilitation), Augusta, GA
1989 - 1994 Owner, Resources for Well Being and The Relaxation Station. Provided Consultation in Total Quality Management to Augusta Business and Industry and Stress Management, Wellness consulting, meditation instruction to Augusta Community
1990-1991 Contract Consultant, School of Allied Health Sciences, Medical College of Georgia, Faculty Development Grant.
1989 - 1990 Faculty, Continuing Education Programs, Augusta College
1989 Consultant to Richmond County School Systems Board of Education
1986-1988 Director of Advanced Graduate Studies in Physical Therapy, Medical College of Georgia
1985 Promoted to Associate Professor, Medical College of Georgia
1984 Academic tenure awarded
1981-1988 Faculty, School of Graduate Studies, Medical College of Georgia.
1981-1988 Assistant Professor, Department of Physical Therapy, School of Allied Health Sciences, Medical College of Georgia and Academic Coordinator of Clinical Education
1977-1981 Instructor, Department of Physical Therapy, School of Allied Health Sciences, Medical College of Georgia and Academic Coordinator of Clinical Education
1976-1977 Assistant Chief, Physical Therapy Department, Eugene Talmadge Memorial Hospital, Medical College of Georgia, Augusta, Georgia
1975 Contract Physical Therapist, Total Care Home Health Agency, Miami, Florida
1974-1976 Instructor, Physical Therapy Assistant Program, Miami-Dade Community College, Medical Center Campus, Miami, Florida.
1972-1974 Staff, Physical Therapist, Acting Assistant Supervisor (December 1972 - February 1974), Acting Supervisor (March - July l974), Physical Therapy Department, Parkway General Hospital, North Miami Beach, Florida.
Update 8/1/2017