During a lecture, the lecturer is active and the learner is passive.
An Adult Learning Facilitator actively involves the learner in the learning experience.
The online Certified Facilitator of Adult Learning course facilitates you as you develop active learning experiences for your own learners.  
Instructor Active.
Instructor shares his or her expertise on a topic of learner interest.
Often taught using YouTube instructional videos or in large group formats
Often used for teaching single skills and answering "how to do" questions
Learner Active
Instructor organizes learning experience into steps to competency and provides those steps to the learner.
Learner active and often self paced using tools and directions provided by instructor. 
 Often used to develop a set of skills that require not only knowledge but problem solving and adaptability.
Let's look at some statistics from the National Training Laboratories in Bethel, Main.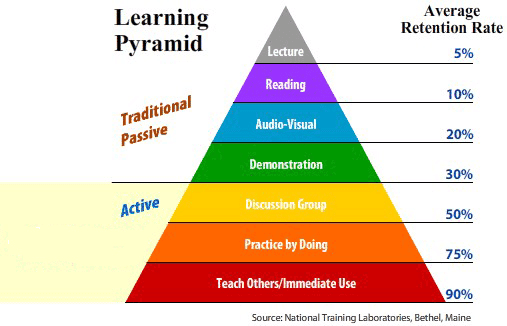 Passive Learnng Techniques  (when the instructor is active and the learner's are passive") are estimated in the learner having the following retention rates:
Lecture – 5%
Reading – 10%
Audio-visual – 20%
Demonstration – 30%
Active Learning techniques have the following retention rates:
Discussion Group – 50%
Practice by Doing – 75%
Immediate use/Teaching Others – 90%
Certified Facilitator of Adult Learning is a Practice by Doing course with reading as a resource. 
CFAL Certified Facilitator of Adult Learning in an online course that facilitates the design of learning experiences that use a range of practice and processing activities to achieve measurable learning outcomes. It is a practice by doing course, creating a product that is of immediate use to the learner.