Take a VIP tour of Certified Facilitator of Adult Learning Course with Dr. Jill Henry.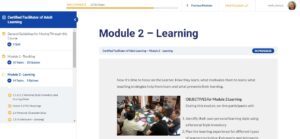 Using Zoom, Dr. Henry will take you inside CFAL where you may view:
Course Modules
Course Lessons
Self Help Quizzes
Feedback Forms
Use this opportunity to consult with Dr. Henry about your needs and interests in Adult Teaching and Learning.
You will be contacted for a Zoom meeting time within 2 business days of completing the form.
Request your free ZOOM VIP Tour and Consult with Dr. Jill Henry.
(Limit one per person)