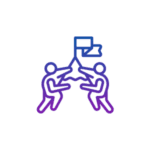 The development of competence is the desired goal of all training and teaching. In CFAL competency based training, you learn how to create a roadmap to competence for your learners.

Reciting information is not enough to develop competence in students.  Showing a video is interesting but results in competent performance only when the learner has the knowledge, understanding, skills and attitudes to integrate what they have viewed with their own experience.
Competency based Facilitators of Adult Learning develop the ability to analyze what they are teaching and present components in a way that allows learners to build their own skills or competencies.
CFAL is customized so that during this course you actually work on what you are or will be teaching in real life – whether in your profession or one of your hobbies.  Competency in any area is built in steps, from simple to complex. Knowing the steps and how to present them to your leaners is the secret of sharing your expertise with others.
As a participant of CFAL, you will have one on one expert guidance at 7 steps along your way of designing your own competency based workshop or training program.
Suggested Resources
What is Competency-based Training?
Competency Based Training (CBT) Introduction and Definitions