Certified Facilitators of Adult Learning are trained to analyze the skills they desire their learners to perform, and then to create effective teaching/learning strategies designed to enable learners to attain the competent performance.
Let's use an example from my online store – Shipping
One would think that shipping is easy – just put an item in a box and mail it. Only 6 steps!
Print Order  
Collect Products
Pack order 
Produce and Apply Shipping Label
Complete the Order
Ship package
It may look simple on the surface, but shipping has some "tricky bits" involved for it to be done correctly and competently. 
My training initially was for the new employee to observe me, then I observe them and remain available for questions. The results of my simple training got simple results – wrong item sent to customer, damaged item from poor packaging, billed for not reporting weight correctly, taking too long to ship one package after shipping for one month… You get the picture!
My training wasn't working because I was assuming too many things about the level of knowledge and experience the worker had compared with the knowledge and skills shipping required. I started micromanaging because I didn't trust what was being done in my own store. And that's where competency analysis comes into play.  It takes awhile to do, but is so worth it in terms of time and money and employee satisfaction. 
Below is an example of competency analysis for each of the 5 steps required to be competent in shipping an order. Missing steps create problems in orders and demonstrate lack of competency. 
Column 1 lists the steps necessary to fulfill the order
Column2 lists the skills required to fulfill the order. 
Column 3 describes results when vital components of a competency are lacking.  
Examples when basic sklls are absent
Log into a computer.
View orders
Verify payment 
Verify USA address.
Computer problems caused by incorrect shutdown.
Waiting for payment – orders shipped out before funds received.
Out of country customer not notified of additional shipping requirements. 
Find products on the shelves
Verify/match product and quantity with invoice
Reporting an item as being out of stock when it was in stock and sitting on the shelf.
Pulling wrong item from shelf.
Shipping only 1 of an item that speficied 5 of them in the order.
Select box and packing materials
Inspect items for damage, remove price tags, include instructional cards and free gifts. 
Pack box and record weight and dimensions
Stuffing items in too small of boxes or having them "swim" in too large of boxes.
Customer calls that item is cracked or damaged
Gift item has price tag on it.
Sent without instructions or story card.
4.  Produce and Apply Shipping Label 
Copy shipping address including email address onto shipping form
Verify shipping address is correct 
Compare shipping options between USPS and UPS and select the best method. 
Verify shipping label with customer invoice shipping address
Print Label and attach to box
Paste tracking number into customer invoice
Billing address copied instead of shipping address – package went to wrong address.
Poor decision making determine shipping method. Unable to follow criteria for ground vs priority. 
Wrong label put on box.
Wrong tracking number applied to shipping notice.
Paste tracking number into order invoice
Send shipping notice to customer
Place box in pick-up location. 
Shipping notice sent to wrong customer
Box not placed in pickup location so missed shipping for a few days.
In Part 3 we will analyze shipping  steps according to the type of behavior required to be successful. 
A Certified Facilitator of Adult Learning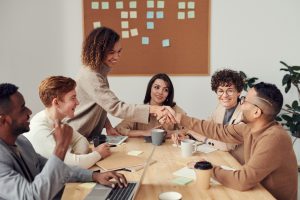 is an expert at teaching competency, and has the cognitive ability to analyze the competency to organize the learning experience around the specific component tasks. He or She also has the affective ability to understand the needs of the learner and facilitate to each individuals highest level of competence.  And that is, after all, what training is all about.
© 3/26/2020 by Jill Newman Henry, EdD  All rights reserved. Use contact form on CFALpro.com to request permission to reprint.